As each anniversary comes and goes ; it becomes more difficult to find a personalized wedding gift idea to make this event a cherished and a special occasion marked by memories. Each successive year of marriage needs to be celebrated and valued, as it represents an annual renewal of love and the commitment the couple shares. This is a very special time of the year when effort needs to be placed in finding that unique and special gift. A romantic gift given at an appropriate time, such as this, will go a long way to ensuring the vitality of the couple's love. As the year's progress, it becomes increasingly difficult to conceive of the perfect personalized anniversary wedding gift. For this reason, lists have been created to help people to focus on a particular gift idea for each year as this would provide variety and yet unique unduplicated gifts would then be given. Out of this background, two lists have emerged- a classic or traditional list that was started in the 20th century, which many people still use, and a modern list that has come about in more recent memory. This article focuses on the modern list.
Modern Wedding Anniversary Gifts by the Year:
The modern anniversary gifts by the year suggestions are more precise and do not allow as much variety and flexibility when compared to the traditional list. For people that want a more specific list of items to buy- this list is more focused. The classic list is more categorically made and not specific but this leads to greater choice in what can be bought for the occasion. This list is inclusive all the way through the 60th anniversary, whereas, the modern list has not all the same categories covered as easily seen in the following handy table:
Wedding Anniversary Gifts by the Year

Classic versus Modern List

Year of Anniversary

Classic Gift Category

Modern Gift Suggestion

1

Paper

Clocks

2

Cotton

China

3

Leather

Crystal

4

Linen/Silk (UK)

Appliances

Fruit/ Flowers

(USA)

5

Wood

Silverware

6

Iron (USA)

Wood

Candy (UK)

7

Copper (US)

Brass/ Deck Sets

Wool (UK)

8

Bronze/Pottery

Linen/Lace

9

Copper (UK)

Leather

Willow/Pottery (USA)

10

Aluminum/Tin

Diamond/Jewelry

11

Steel

Fashion Jewelry

12

Home Décor

Pearls

Linen/Silk

13

Lace

Textiles/Furs

14

Ivory

Gold Jewelry

15

Crystal

Watches

16

Coffee/Tea

Silverware

17

Wine/Spirits

Home Décor

18

Appliances

Porcelain

19

Jade

Bronze

20

China

Platinum

21

Fire Theme

Brass/Nickel

22

Water Theme

Copper

23

Air Theme

Silver plate

24

Stone Theme

Silver plate

25

Silver

Silver

26

Art

Pictures

27

Music

Sculptures

28

Linens

Orchids

29

Tools

Furniture

30

Pearls

Diamond

31

Travel

32

Bronze

33

Iron

34

Food

35

Coral

Jade

36

Antiques

37

Books

38

Luck Theme

39

Laughter Theme

40

Ruby

Ruby

41

Office/Home Décor

42

Clocks or Watches

43

Entertainment Theme

44

Electronics Theme

45

Sapphire

Sapphire

46

Games

47

Garden/Plants

48

Home Improvement

49

Copper

50

Gold

Gold

51

Photos/Camera

52

Bath or Spa Theme

53

Plastic

54

Glass

55

Emerald

Emerald

56

Day Theme

57

Night Theme

58

Faith/Hope Theme

59

Charity Theme

60

Diamond

Diamond
Traditional Wedding Anniversary Gifts by the Year
In modern times, the gifts suggested for each year have changed from the original traditional wedding anniversary gift list. This is fine if you want to follow the change, but many gifts can be bought by sticking completely to the traditional lists that were made. In the hustle and the bustle of modern day schedules it is very convenient to have a list that can be chosen from that will help you find that unique personalized gift each year. From any of the listed traditional gift ideas, it is easy to find a large contingent of items that will make an excellent wedding anniversary gift idea. In articles which I will continue to write Wedding anniversary by the year gift ideas which will demonstrate just how extensive that it can be. As you plan gifts that cover each of the years; you will have a much better chance of choosing a variety of gifts and in keeping your gifting ideas fresh and vibrant. When you realize that the importance of a personalized gift that will be a meaningful gift for the occasion; you will have gained much wisdom in your gift buying. This list and the process involved certainly simplifies gift buying and helps you narrow down your choices. The traditional wedding anniversary gift list suggests a category of gift buying ideas which can be very extensive but still enable you to purchase that unique personalized wedding anniversary gift.
Modern Wedding Anniversary Gifts
The modern wedding anniversary gift ideas tend to be more specific- this tends to limit the choices in what you can purchase. On the other hand, the traditional gifts are more themed ideas which will give you a wider range of gifts that would be acceptable. It comes down to the fact that if you want to narrow the choices, the modern gift list is probably the best to use, whereas, if you value more selection and variety, then choose the traditional gift ideas. Both lists provide different possibilities for each year and so will reduce redundancy over time. In this modern age, we tend to be more stressed to find the time to shop and so an easy answer is the best in the modern day list of possibilities. Whatever, your choice may be; make it a personalized wedding anniversary gift idea that will bring a lasting impression.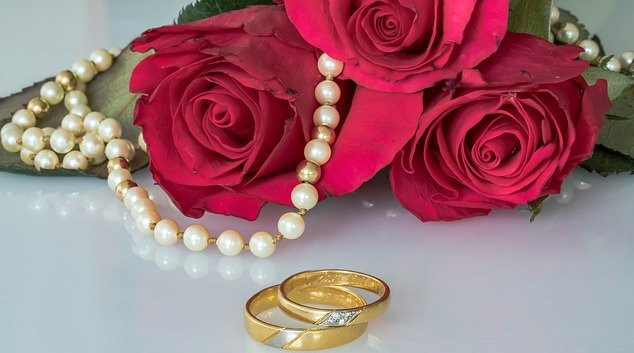 Golden Wedding Anniversary Gift Ideas
Although the golden 50th anniversary is very special, it is centered around a very expensive item, namely gold. In this category are gold-dipped flowers, gold plates and of course a myriad of gold jewelry gift ideas. On this occasion it is very special, as it is a huge achievement, much thought should go into the planning of this special day to make it extraordinary! A special holiday trip might be in the order if this couple is still healthy enough to take the trip especially if it can be shared with love ones in their family. Many resorts are available which are off the beaten path but very exceptional. These are the holidays that will make an incredible lasting impression on all the participants. The family can all chip in together to make this a fantastic special memory that all will cherish forever.
Romantic Anniversary Gift Ideas
When determining that special gift to buy or how to make the occasion very special to your mate for life, it is important that you consider the romantic aspects. Romantic gift ideas, whether poetry, a love song, a beautiful caress in an enchanting spot or viewing the tree in which was carved your love heart will bring special memories that will enhance the special moment and memorialize it in your minds forever.
I Love You Always
I fell in love with you then. You were my perfect ten! I did not know where it might lead;
But to you I was sincerely wed. And now my love has surely grown, My desire for you is surely known. This is our secret from our youth. The words I speak are utter truth. Your love I crave each and every day, These simple words I say. My love to you will always be cherished as only true love can see.
Conclusion
It is quite possible to choose some terrific gift ideas from either the traditional or the modern list that will enable you to obtain personalized wedding anniversary gifts that will be truly unique and that will never be repeated. Always remember that special occasions deserve thought and consideration especially for exceptional anniversaries, Of course each anniversary should be special for the married couple- always remember romance is so important to keep your marriage alive!