What is the Amazon best-sellers? These simply indicate which products are selling the most in any given category. Each category has a Best Sellers Rank (BSR) which is given to each product that has had at least one sale. This is huge considering that Amazon has a multi-million dollar catalog, but this number indicates how well a product is currently selling on Amazon in various categories; it is thus. An indicator of a product's popularity within a classification. Each product can have different BSR numbers depending on the category for which it is being evaluated. The lower the BSR for the product in a category the greater the popularity of the item in driving sales but only within that classification. There is not an overall BSR product rating. This is the reason that the BSR is a predictor of the number of sales of any particular item. Many of these products have respectable consumer ratings but this is not an indication of customer satisfaction but on how well the object is selling within its classification.
The reason why the products might have a well-ranked BSR, are varied and many. Brand recognition, value of the object compared to the asking price, appeal ability of the item, color of the article, competition within the niche, and perceived durability of the product will all be considered when the buyer purchases any item.
I will be providing a top-rated product with respect to its BSR on a monthly basis in various gift buying categories especially for the purchase of wedding and anniversary gifts. In this way, I will stay abreast on trends and demands of the product in the marketplace which will provide you with valuable information that you can use if this value is important to you. Please note, again, that the BSR does not mean it is at the top of the consumer ratings but will only give an indication of the popularity of the item at the time of the article.
Amazon Choices for This Month in Specified Gift Buying Categories
Some of Amazon Best sellers of each month in the specified categories will be found here as represented by Amazon's Ratings. They will not necessarily have the highest BSR but will be close to the top of desirable goods. These are products that have a high BSR, are available to be shipped immediately and so are delivered quickly, and are economically priced and generally are returned less often than other products. These I will review each and every month with goods deemed to be popular wedding and anniversary gifts.
Air Fryer
Ninja AF101 Air Fryer that Crisps, Roasts, Reheats, & Dehydrates, for Quick, Easy Meals, 4 Quart Capacity, & High Gloss Finish, Black/Grey
Now enjoy guilt free food; Air Fryer up to 75 percent less fat than traditional frying methods; Tested against hand cut, deep-fried French fries
Wide temperature range: 105 degree Fahrenheit to 400 degrees Fahrenheit allows you to gently remove moisture from foods or quickly cook and crisp foods with convection heat
4 quart ceramic coated nonstick basket and crisper plate fit 2 pounds of french fries. Cord length (feet) – 2.6
The unit will need time to preheat before coming up to temperature. We recommend that you preheat the unit for 3 minutes before adding your ingredients to achieve the best results
Dehydrate: Create flat, chip like dehydrated foods for fun, homemade snacks pounds; The combination of low fan speed and low temperature enables thorough dehydration
Dishwasher safe parts: Easy to clean basket, crisper plate, and multi-layer rack
Customer ratings by feature
Giftable 4.9 Versatility 4.8 Easy to use 4.8 Easy to clean 4.8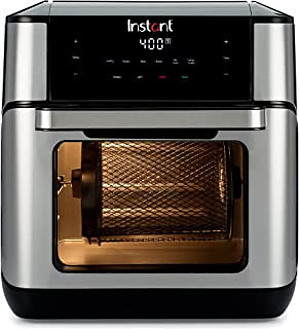 Instant Vortex Plus 10-Quart Air Fryer, From the Makers of Instant Pot, 7-in-10 Functions, with EvenCrisp Technology, App with over 100 Recipes, Stainless Steel
7-IN-1 FUNCTIONALITY: Air fry, broil, bake, roast, dehydrate, reheat, and rotisserie.
EvenCrisp TECHNOLOGY: Advanced technology that drives air flow top down for a perfect golden finish and crispy, tender results every time!
ROTISSERIE FEATURE: Perfect for self-basting and tumble-frying. Top heating element with fan ensures optimal cooking and baking performance.
ONE-TOUCH SMART PROGRAMS: 6 customizable programs for one-touch rotisserie-style chicken, garlicky potatoes, cookies cinnamon buns and more!
FAST PREHEATING: Little to no preheating time, from frozen to golden in minutes! Create gourmet meals with the versatility of a temperature range of 95 to 400° F.
INCLUDED ACCESSORIES: Include a non-stick drip pan and 2 perforated cooking trays, as well as stainless-steel rotisserie basket, rotisserie spit and forks, and lift tool.
EASY CLEAN-UP: Oven door removes easily and cleans easily with a damp cloth and dish soap. Dishwasher safe drip pan, cooking trays, rotisserie basket, spit, forks and screws
Customer ratings by feature
Easy to clean 4.4 Easy to use 4.4 Flavor 4.3 Versatility 4.3
Coffee Maker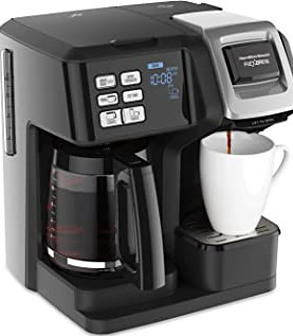 Hamilton Beach 49976 FlexBrew Trio 2-Way Coffee Maker, Compatible with K-Cup Pods or Grounds, Combo, Single Serve & Full 12c Pot, Black
3-WAYS TO BREW: Brew up to 12 cups with ground coffee on the carafe side or use dual-purpose single serving to brew a pod or ground coffee on the other. The included pod holder and single-serve grounds basket easily handle both options
SINGLE-CUP COFFEE MAKER: Brew a cup with a K-Cup, pod, another pod brand, or ground coffee. The included pod holder and single-serve grounds basket easily handle both options and the cup rest removes so you can brew into a tall travel mug
BREW A FULL POT OF COFFEE: This programmable coffee maker has Easy-Touch programming for wake-up ready coffee. After brewing, coffee stays warm for 2 hours and the power automatically shuts off. Auto Pause & Pour lets you pour a cup as coffee brews
CUSTOMIZE YOUR BREW STRENGTH: Control how strong you want your coffee with Select-a-Brew: regular and bold brewing options
2 SEPARATE EASY-FILL WATER RESERVOIRS: Each brewing side on this Hamilton Beach coffee maker has its own water reservoir that's easy to fill and features a water window, so you always know exactly how much water to add
Customer ratings by feature
Flavor 4.4 Easy to use 4.4 Easy to clean 4.3 Versatility 4.3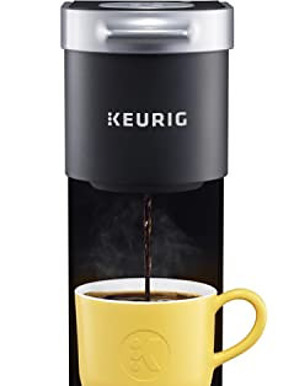 Keurig K-Mini Coffee Maker, Single Serve K-Cup Pod Coffee Brewer, 6 to 12 oz. Brew Sizes, Black

FITS ANYWHERE: Less than 5 inches wide, perfect for small spaces
YOUR PERFECT AMOUNT: Brew any cup size between 6-12oz with Keurig K-Cup pods
ONE CUP RESERVOIR: Just add fresh water for each brew
FAST & FRESH BREWED: Coffee made in minutes
CORD STORAGE: For easy transport and tidy counter tops
TRAVEL MUG FRIENDLY: Removable drip tray accommodates travel mugs up to 7.0 inches tall and holds a full accidental brew for easy cleanup
ENERGY EFFICIENT: Auto off feature turns off your coffee maker 90 seconds after your last brew, helping to save energy
Customer ratings by feature
Giftable 4.6 Flavor 4.3 Value for money 4.3 Easy to use 4.3
Knife Set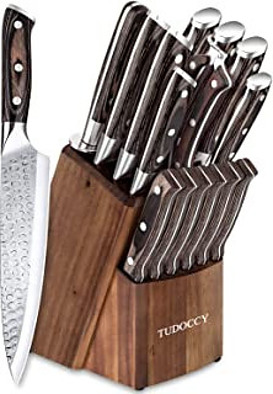 Kitchen Knife Set, 16-Piece Knife Set with Built-in Sharpener and Wooden Block, Precious Wengewood Handle for Chef Knife Set, German Stainless Steel Knife Block Set, Ultra Sharp Full Tang Forged
【Valuable All-In-One Knife Set】 Tudoccy 16-pcs knife set included 8" Chef Knife, 8" Bread Knife, 8" Slicing Knife, 8'' Knife Sharpener, 7" Santoku Knife, 6.3'' Carving Fork, 5" Utility Knife, 3.5" Paring Knife, 6 pieces of 4.5" Steak Knives, Kitchen Scissors, and Finger Guard. Carving fork easily pick up and serve all types of meat
【High Quality Kitchen Knife Set】 All knives' blade is forged from Superior high-Carbon German stainless steel with exceptional corrosion resistance and oxidation resistance. Strong, durable bolster for perfect stability and control. Sharp, sturdy, and practical. No rust, stains, or pitting here. Every knife set is backed by superior quality and under strict quality inspection
【Ergonomic Design】The Unique rivets handle adopt the high-grade wedge wood. Beautiful non-slip handles – classy and timeless look, which wood grain only gets better with age. The curved design handle provides comfort and support. Exclusive taper grind edge technology provides optimum sharpness for precise cutting and is easy to re-sharpen. A perfect mix of design and practicality
【Easy Care & Storage】All knives are well organized into a beautiful Acacia Wooden Block, which could be a perfect kitchen decor while reducing the risk of rusting (Please Don't wash in a DISHWASHER, Hand Wash is highly recommended). Perfect gift for Thanksgiving, Wedding, Birthday, Housewarming
【After Sales Service 】Offering lifetime quality and satisfaction support and 24 Hrs dedicated email customer support. Our Customer Team is here to help should you have questions about your knives. Our aim is 100% satisfied customers. Contact us if you are not satisfied with our product, you will receive 100% customer support and quality assurance
Customer ratings by feature
Giftable 4.3 Sturdiness 4.3 Value for money 4.2
Microwave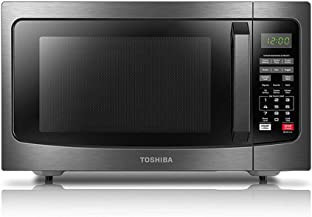 TOSHIBA EM131A5C-BS Countertop Microwave Ovens 1.2 Cu Ft, 12.4″ Removable Turntable Smart Humidity Sensor 12 Auto Menus Mute Function ECO Mode Easy Clean Interior Black Color 1100W
【Pre-programmed sensor menu】 for optimum heating of popular foods like pizza, potatoes, veggies and more; Power Wattage (Microwave): 1100W; Rated Voltage: 120V – 60Hz【Stylish Appearance with Large Interior, fitting a 12inch Pizza】Black exterior, 20.51 x 17.14 x 12.83 inch (w x d x h); large 1. 2 cubic feet capacity, cavity 13.07 x 15 x 9.5 inch (w x d x h), removable turntable 12.4 inch (diameter)【Other Functions】1100 watts with 10 power settings, defrost by time&weight;, clock, and kitchen timer【Practical Control Panel】Large digital display, easy-to-read control panel. The keypad was covered by a protective film during the shipment. Please peel it off before your first use.【Mute Function】If you wish to mute the buzzer of the microwave, pleas long press on the button "8" for 3-5 seconds. The buzzer is automatically switched off after a long beep. Warranty 1 year, please keep the packaging for contacting Toshiba after service and product returns. Note: Kindly refer to the user manual provided as a PDF manual in the product description section
Crock Pot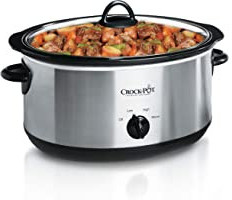 Crock-Pot 7-Quart Oval Manual Slow Cooker | Stainless Steel
Ceramic, glass, stainless steel
Imported
Spacious 7 quart manual slow cooker serves 9 plus people or fits a 7 pounds; Roast
Set cooking time to high and get a hot meal in no time or set it on low and tonight's dinner can cook while you're at work
Keep food at an ideal serving temperature for as long as you need to with the convenient warm setting
One pot cooking means there are fewer dishes to clean, plus the lid and removable stoneware are dishwasher safe
All Crock Pot Slow Cooker removable stone inserts (without lid) may be used safely in the microwave and the oven set up to 400°F; If you own another slow cooker brand, please refer to your owner's manual for specific crockery cooking medium tolerances. Note: Do not use abrasive cleaning compounds or scouring pads
Customer ratings by feature
Easy to clean 4.5 Value for money 4.5 Durability 4.4 Versatility 4.4
Immersion Blender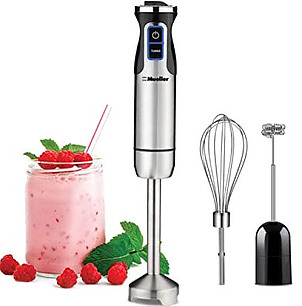 Mueller Ultra-Stick 500 Watt 9-Speed Immersion Multi-Purpose Hand Blender Heavy Duty Copper Motor Brushed 304 Stainless Steel With Whisk, Milk Frother Attachments
Sophisticated Design – The ergonomic grip offers a non-slip and comfortable grip when continuously blending ingredients.
Exceptional Quality – The full copper motor withstands continuous use and will last 3X longer than competitor's motors.
Versatility – The removable blending arm with fixed blade locks into the motor body for easy operation. The stainless steel S-shaped fixed blade quickly blends ingredients for smoothies, milk shakes, soups or baby food and the quality Whisk attachment is a perfect addition.
1 Year Warranty so you can buy with confidence and blend happily ever after.
Made in China.
Customer ratings by feature
Quality of material 4.6 Easy to clean 4.6 Easy to use 4.6 Versatility 4.5
Vegetable Cutter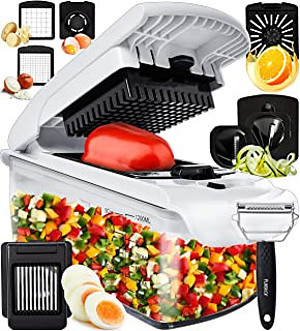 Fullstar 9-in-1 Deluxe Vegetable Chopper Kitchen Gifts | Onion Chopper & Dicer | Peeler, Spiralizer, Zoodle Maker, Lemon Squeezer, Egg Slicer & Separator- Ultimate Kitchen Gadget
est functionality on the market – everything you need in this multi functional all in one kitchen gadget. 7 easy to change inserts including two different sized chopper blades and two spiralizer inserts give you the option of broad ribbons or thin spirals.
Bonus handheld peeler, juicer, egg separator and slicer – juice your fresh lemons, separate your yolks from your egg whites and slice your hard-boiled eggs with ease with this all in one food choppers and dicers. Plus this set comes with a Bonus peeler that can both peel and julienne your veg.
Quality materials and easy store – our multi functional chopper dicer comes with a space-saving blade organizer, perfect for saving space in the kitchen. The abs plastic is nontoxic and BSA free guaranteeing healthy meals for your family.
No mess and slips – our catch tray makes cooking so much more convenient, no mess and no messing around! It makes cleaning effortless and our non-slip base also makes your chopping that much easier. Plus the entire chopper is dishwasher-safe (top rack) .
Read the manual carefully- please read the instruction manual provided with the Fullstar food chopper closely before use. If you have any questions or issues regarding the chopper please do not hesitate to send the seller a message through Amazon and we will respond within 24 hours.
Sandwich Maker
Customer Ratings by Feature
Easy to use 4.5 Versatility 4.4 Durability 4.4 Sturdiness 4.4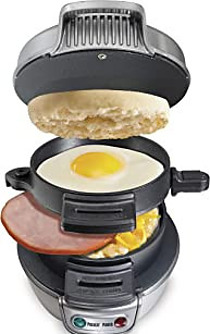 Hamilton Beach Breakfast Sandwich Maker with Egg Cooker Ring, Customize Ingredients, Perfect for English Muffins, Croissants, Mini Waffles, Single, Silver
Quick and easy: This sandwich maker cooks your breakfast, lunch, or dinner sandwich in just minutes. Perfect for brunch or a quick, healthy meal on the go.
Create custom sandwiches: Use this breakfast maker to completely customize your sandwich with your choice of bread, cheese, eggs, meats, and much more. Eliminate the bread and these are great for Keto and Paleo diets too.
Get inspired: Explore more than 25 sandwich maker recipes on our website.
Just 4 easy steps: Building your breakfast sandwich comes together in just a few steps with a breakfast maker—and you don't even need to leave your house.
Easy cleanup: All removable parts on this sandwich maker are dishwasher safe and surfaces are covered with durable, nonstick coating.
Great gift: Perfect gift for the holidays, Christmas, birthdays, father's day, mother's day, graduation, back to school and more
Included components: Quick and easy recipes
Customer ratings by feature
Easy to assemble 4.7 Durability 4.5 Easy to clean 4.3 Flavor 4.3
Juicer

Mueller Juicer Ultra Power, Easy Clean Extractor Press Centrifugal Juicing Machine, Wide 3″ Feed Chute for Whole Fruit Vegetable, Anti-drip, High Quality, Large, Silver

Why the Mueller Ultra Juicer – Under its sleek modern stainless-steel design and low countertop footprint, it packs the punch of a much larger, bulkier and more expensive juicer, at a fraction of the size and cost. Create a 16 oz cup of juice in seconds, with less clogging and less foaming. Dual-speed Versatility – "1" low speed runs from 12000 to 15000 RPM for softer fruits like oranges, apples, grapes or tomatoes; "2" high speed runs from 15000 to 18000 RPM for harder fruits like carrots, celery, beets, kale, ginger and more. Clean-ups are a Snap – Our Ultra Juicer's culinary grade stainless steel cutting disc is surrounded by a micro mesh filter to extract more juice, vitamins and minerals, all while being easy to clean and assemble in seconds. Made in China with Extra Large Feed Chute – Features an anti-drip function and 3" chute to avoid spillage. A safety locking arm makes sure the cover stays on tight during operation. The overload protection system shuts off the juicer automatically to prevent overheating from an unstable power supply, improper assembly, idle run, etc. Our Customer Care Promise – Mueller believes in making life easier, better and more enjoyable in all that we do. We strive to bring you quality products, and ensure we bring you nothing but the best. If you experience any issues with your Ultra Juicer at any time, contact us or any of our authorized sellers, and we will do everything we can to make things right! Made in China
Customer ratings by feature
Easy to use 4.5 Easy to assemble 4.3 Easy to clean 4.3 Blending power 4.2
Cookware

NutriChef Stackable Pots and Pans Set – 14-pcs Luxurious Stackable Cookware Set – Sauce Pans Nonstick Set with Lids– Healthy Food-Grade Copper Non-Stick Ceramic Coating
OPTIMAL SOLUTION: Preparing delicious food for your family is easier with the NutriChef 14-piece nonstick pots and pans set! Prepare delicious sauces, creamy pasta, stew, veggies, and breakfast using a complete cookware set that should not be missing from your kitchen.
WHAT YOU GET: This complete nonstick cookware collection includes 14 practical pieces that allow you to prepare any dish: sauce pot with lid, cooking pot with lid, stew pot with lid, jumbo cooker with lid, small fry pan, medium fry pan, griddle pan, slotted spatula, pasta server, and soup ladle.
SPACE-SAVING DESIGN: Our copper cookware set has a practical stackable design that allows you to keep your kitchen neat and well-organized. Nest the space saver pots and pans into any drawer to turn your kitchen into a more functional and practical space.
SUPER-STYLISH: Unlike other nesting pots and pans, ours feature a luxurious and elegant design with stunning shades of copper. The hard-anodized lacquer exterior is not only durable, but also modern and minimalist.
SAFE OPTION: We have made sure that nothing will stick to our copper coated pots and pans while also protecting your health. The cookware set is food-grade and planet-friendly, as well as free of PTFE, PFOA, and PFOS.
DURABLE AND LONG-LASTING: The ceramic cookware sets have 3 layers of copper with a hard-anodized and heat-resistant lacquer exterior. This solid cast iron design is sturdy and reliable, so you can use this scratch resistant pots for many years to come.
OUTSTANDING PRESENT: Get this amazing 14-pieces nonstick pot and pan set for your kitchen or as a luxurious housewarming present for your family and friends. Surprise your loved ones with a practical and elegant present that will help them set up an outstanding kitchen.
Customer ratings by feature
Easy to clean 4.7 Sturdiness 4.7 Heat distribution 4.6 Value for money 4.5
NOTE: If you follow links on this site, I will earn a small commission but you will be charged no extra money than as if you had gone there directly.
Conclusion
By popular request, I will answer, "What is the Amazon Best Sellers?" , by providing a selection of items each month having high BSR's. This selection will indicate some popular items each month that many people are choosing that will provide awesome wedding and special celebrations gifts for you to consider.