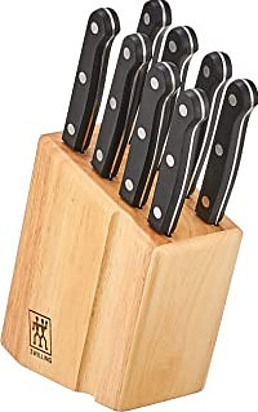 What is the best wedding gifts to buy or receive at a wedding or an anniversary? There are many steak knife sets that can be considered. I will recommend a few of these but I will give you my recommendation for the very best steak knife set in the market today.
For people that enjoy a great steak or appreciate a great barbecue, a great steak knife is an essential part of them enjoying the event. There are two types of quality knives to consider. One is a normal knife cutting edge, while the second is a serrated edge. The serrated edge has very sharp and thin edges like little teeth and they are designed to cut through any meat with complete ease. The knives do not tear or shred the meat because the serrations hold the meat in place while cutting through. Serrated knives allow for an even distribution of the force being applied and maintain their usefulness for long periods of time; however, they must be sharpened regularly in order to keep their cutting great cutting ability. If you want a perfect cut to your meat The non-serrated edge on this type of knives keeps each bite more intact but it requires often sharping to keep the set at its best. These knives are perfect for those who want their steaks medium rare but don't want any cuttings remaining on their plates. These knives are much easier to sharpen that serrated knives but are often desired by fine food restaurants.
Another consideration is what type of handle should you want? There are aluminum, stainless steel, titanium, carbon fiber, bone, leather, and wood knives. I personally love the wood handled knives because it is most natural and seems so comfortable on the hands, but, quality stainless steel handles have their advantageous. Wooden handled knives should be washed by hand and one should avoid placing them into water for extended periods of time making them harder to maintain. Wooden handles steak knives can be bought with a variety of different types of wood. Stainless steel handles are easier to wash and can be placed in a dish washer. A carbon fiber or a titanium handle will last a long time and are extremely durable. Chefs prefer wooden handles normally since when metal handles are near flame for too long they can become very hot.
My top recommendations follow and then I will provide budget conscious choices as well.
Henckel's Steak Knife Set
These knives have been manufactured for a very long time and are made in Germany. They have an excellent reputation and have won many prestigious awards for making quality knives which are recognized the world over. They are made of the best quality materials and obtain top marks in consumer reports. These knives have been manufactured by this family in Solington, Germany since 1731.


KRAMER by ZWILLING Steak Knife Set
Sg2 (Mc63) micro-carbide powder steel
Designed to Master blade Smith Bob Kramer's exacting specifications
Traditional 3-Step hand sharpening for exceptionally high sharpness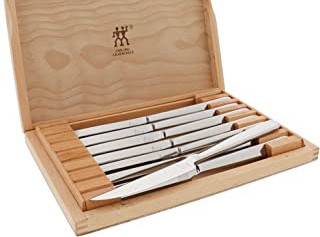 Zwilling J.A. Henckels Steak Knife Set of 8, German Knife Set, Stainless Steel
ULTRA RAZOR-SHARP: ZWILLING knives start out razor-sharp and stay sharper longer, even with minimal care
THE LAST KNIFE YOU'LL EVER NEED TO BUY: Zwilling knives are built to last; They are German engineered informed by almost 300 Years of masterful knife making
WE KNOW MORE ABOUT KNIVES THAN ANYONE ELSE IN THE WORLD: ZWILLING has been making knives since 1731 in the renowned "City of Blades" Solingen, Germany and we are constantly innovating to bring you the best knives possible
LARGEST MANUFACTURER OF KNIVES GLOBALLY: As the largest manufacturer of knives globally, we own our factories so we can control the quality at every step of production
SUPERIOR CRAFTMANSHIP: Perfected for almost 300 years; Starts sharper, stays sharper longer, and has superior resilience
EXCEPTIONALLY BALANCED KNIFE FOR COMFORTABLE CUTTING: ZWILLING knives are ergonomically shaped for maximum comfort in the hand, this forged blade steak knife set provides the ultimate strength
PRECISE CUTTING: 4-inch serrated blade slices through meats and poultry with razor sharp precision
GIFT SET: Comes with beautiful, elegant wood presentation case, perfect for a gift.

Henckels Forged Contour 8-pc Steak Knife Set – Black


Includes eight forged steak knives with serrated edges and comes in an elegant gift box high quality German stainless steel construction with satin finish. Full tang with bolster provides solid grip and balance. Precision forged blades for impeccable geometry, accurate grinding, and superior cutting properties. Comfortable and traditional 3-rivet handles

Zwilling J.A. Henckels Twin Gourmet 9-Piece High-Carbon Stainless-Steel Gourmet Steak Knives with Block

About this Item stamped German stainless steel
Three rivet handle
No-stain blades
Made in Spain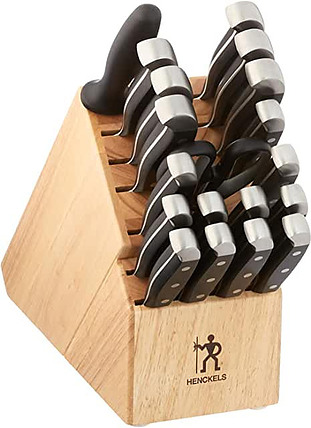 HENCKELS Premium Quality 20-Piece Statement Knife Set with Block, Razor-Sharp, German Engineered Knife Informed by over 100 Years of Masterful Knife Making, Lightweight and Strong, Dishwasher Safe


ULTRA-SHARP BLADES: Superior professional-level sharpness that ensures precision cutting.
THE LAST KNIFE YOU'LL EVER NEED TO BUY:
German Engineered Knife Informed by over 100 Years of Masterful Knife Making.
HENCKELS knives are built to last.
EFFORTLESS CUTTING: Enjoy easy meal prep and paper-thin cuts with minimal effort with this lightweight, easy-to-use knife.SET INCLUDES: 3-inch and 4-inch paring knife, 5-inch utility knife, 5.5-inch boning knife, 6-inch utility knife, 7-inch santoku knife, 8-inch chef's knife, bread knife and carving knife, steak knife set of 8, honing steel, kitchen shears, knife block. Quick CLEAN UP: No-fuss cleanup, in the dishwasher or by hand. Stain and rust-free blades.WORTH THE SPLURGE: HENCKELS knives start out razor-sharp and stay sharper longer, even with minimal care.DURABLE BLADE: Single-piece, precision-stamped blade construction provides durability. STAYS SHARP LONGER: Professional, satin-finished blade boasts precision cutting and is finely honed for long-lasting sharpness
Wusthof Gourmet 6 piece Steak Knife Set
The second recommended knife sets are surprisingly made in Solingen, Germany since 1814. Both these exceptional knife brands have all but dominated the market worldwide for quality knives for at least 50 years.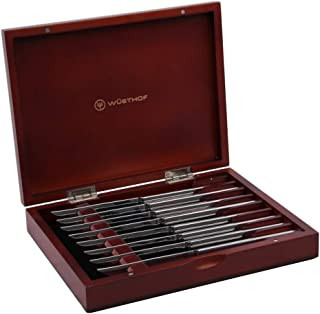 Wusthof 8-Piece Stainless-Steel Steak Knife Set with Wooden Gift Box
Eight steak knives packaged in presentation box with rosewood stain
High-carbon 18/10 stainless-steel serrated blades
Contemporary, polished 18/10 stainless handles
Precision-forged
Lifetime warranty

WÜSTHOF 10-Piece Stainless Steak and Carving Knife Set

Set includes eight 4″ serrated steak knives, a carving knife and a carving fork, olive wood case. The subtle features of these stainless handled steak knives will complement any flatware pattern. Steak knives have sharp serrated edges designed to cut easily through thick steaks without tearing. Comes with elegant wooden storage chest, makes it great for gifting
Made in China with a lifetime warranty; hand-wash recommended for best care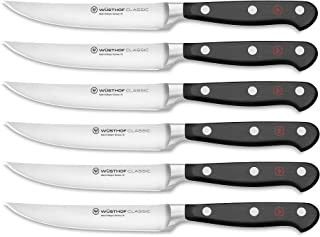 WÜSTHOF Classic 6-Piece Steak Knife Set

WÜSTHOF CLASSIC SERIES – 6 Piece Steak Knife Set with triple riveted synthetic polypropylene handles that resist fading, discoloration, heat and impact. recision
Forged High-Carbon Stainless SteelRAZOR SHARP – High Carbon Stainless Steel Blades, precisely cut with the latest state-of-the-art technology for incredible sharpness and easy maintenance. WÜSTHOF kitchen knives are Hand Wash OnlyWÜSTHOF STEAK KNIFE SET – Includes six 4 1/2″ Steak Knives. WÜSTHOF Steak Knives have a straight clean edge that glide through beef like butter without shredding or damaging the meat
DURABLE – WÜSTHOF Cutlery is crafted to resist corrosion and dulling. This German made Kitchen Knife set Comes with a limited Lifetime Warranty
CENTURIES OF TRADITION – Family owned for seven generations, WÜSTHOF was founded in Solingen, Germany over 200 years ago. WÜSTHOF's cutlery carries the Solingen name, a designation reserved for products that meet the strictest quality standards
Conclusion
What is the best wedding gifts? The best steak knife set is made in Germany by the two manufacturers product recommended as the Henckels and the Wusthof knives haves dominated the world stage for many years and have demonstrated quality and desirability. For these reasons, they make awesome gifts!
Notice: If you follow any of my links you will not pay any extra for the products but I will receive a small commission,