What is the best wedding gifts? There are many items that can be bought for a wedding but a microwave would certainly be special. These are now common kitchen appliances that are popular for not only reheating foods but for delivering quality food that will easily cook rapidly foods that will easily burn or turn lumpy.
Microwaves cook much faster than in using conventional ovens and takes up considerably less space. They cook the food without making a big mess, reheating foods very quickly. For cooks that want to save much time, it is a very valuable tool especially that the food does not have to be watched while cooking to ensure that it is not burned. Cooking by microwave saves the nutrient contents of the food and does not require much oil making it a huge ecological choice; moreover, frozen foods are unthawed quickly in the peak of their flavor, and then can be easily cooked. They perform all this and yet are very energy efficient and economical to operate. If you have a family, you must buy a larger oven but it will save you so much work, but do not use plastic containers in the microwave.
Cleaning the microwave is super easy. The inside cooking area can be simply washed with a damp cloth or the inside of the oven wall can be sprayed with water and then the oven put on for a minute and the food will come off easily. The smooth finish and the glass plate is also properly cleaned exactly the same way. A damp cloth will often be able to clean food particles with no trouble at all.
There are different types of microwaves smart, convection, built-in, over the range, under counter, microwave combination and counter top. Most of these have to do with position and not function but I will talk about smart and convection oven microwaves. Convection oven microwaves are impressive in that they can bake and roast foods easily because it has a fan with a burner inside for this type of use and still have the functionality of a regular microwave. Smart microwaves offer their latest in technology as they are WiFi enables and use many adaptive features to provide a new level of convenience. With voice control, it is easy to enable the microwave from home or with a smart phone so you can have your food ready when you arrive in your castle.
In this article, I am only considering the purchase of a microwave of the countertop variety. The reason for this is that most newly married couples will undergo a transition of different homes over the first 15 years before settling on a more permanent location. This often times is of budgetary reasons but work and education transitions might be important, as well. In this case, the design becomes of vital importance. These models are available in white, black and stainless steel which will depend on preference, although for me the durability of stainless steel is desirable and it looks attractive with other colors.
What is the Best Countertop Microwaves
Since many newly married couples are not completely settled into life; they may change the location where they are living many times before settling down in a given area. They will be desiring the best countertop microwave since it is easily moved and transported from one location to another. Having the best countertop microwave will ensure that they are able to heat food quickly and if a smart unit is bought; they can have meals hot and ready to eat upon arrival at their home. Using smart technology they will simply prepare the food in the oven and then turn the microwave on at the appropriate time with their cell phone so that the cooking is completed by the time they arrive home. This is an awesome feature about the best microwaves in the market today.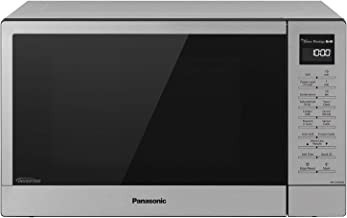 Panasonic NN-GN68KS Countertop Microwave Oven 2-in-1 FlashXpress Broiler, Inverter Technology for Even Cooking and Smart Genius Sensor, 1000W, 1.2 cu.ft Microwave-NN-GN68KS (Stainless Steel/Silver)
Fllash press broiler allows the microwave oven to be used for broiling with grill like results. The specially designed broiling rack lifts food close to infrared grilling element for a crispy brown finish
Genius sensor cooking built in automatic genius sensor adjusts power and times based on different foods; other advantages include 18 Preset menu items, quick minute timer, delay start and child safety lock
Microwave controls 7 preset auto cook menu items, 13. 4 inches Turntable; delay start and timer; more/less control; child safety lock; quick 30Sec and popcorn button with 3 cooking levels
Minimum countertop footprint smart, compact microwave broiler design devotes less space to electronics and far more interior capacity. Just wipe with a damp cloth
Rated output power (microwave): 1000W, rated output power (broiler): 1100W, rated Voltage 120V 60Hertz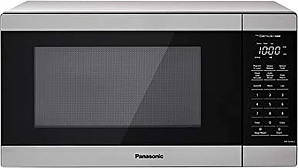 Panasonic NN-SU66LS 1100W with Genius Sensor Cook and Auto Defrost Countertop Microwave Oven, 1.3 cu ft, Stainless Steel
Delicious Foods, Smarter Cooking with Panasonic Microwaves: Panasonic patented Genius Sensor technology, designed in Japan for fast cooking and delicious results, 1100W powerful cooking and 1.3 cu ft interior
Auto Sensor and Auto Cook: Panasonic microwave oven with 7 preset smart cooking options including potatoes, fresh and frozen vegetables, frozen pizza and entrees, casseroles and more, plus Auto Defrost and smart Sensor Cook and Reheat
Minimum Countertop Footprint: Smart, compact microwave oven occupies less space for electronics and more for interior capacity: 11.8"H x 21.2"W x 17.4"D with 12.4" turntable
Microwave Popcorn: Choose from 3 power level options, depending on the size of the microwave popcorn bag, for perfect popping every time
Keep Warm: Keeps foods like vegetables, soups, hors d'oeuvres, gravies, sauces and desserts warm and delicious until they're ready to serve
Video: https://aax-us-iad.amazon.com/x/c/RJsSzRaqz2hxjxkNKnbei2oAAAGD0cdhcAEAAAH2AQBOL0EgICAgICAgICAgICBOL0EgICAgICAgICAgICA6-5pl/https://www.amazon.com/dp/B07DJ43714?pd_rd_i=B07DJ43714&pf_rd_p=55defc4a-7c1e-47a7-8d1d-5cc458cca688&pf_rd_r=ZQPABZBK6WEFZY3Z8MV5&pd_rd_wg=WjEL2&pd_rd_w=5YNgM&pd_rd_r=32859199-baa5-4a18-9fe9-2ab9e634f392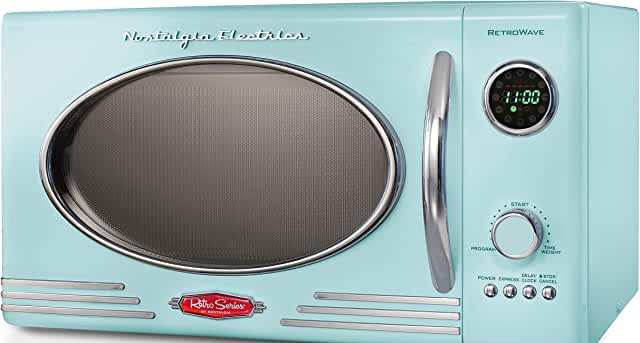 Nostalgia RMO4AQ Retro Large 0.9 cu ft, 800-Watt Countertop Microwave Oven 12 Pre-Programmed Cooking, Digital Clock, Easy Clean Interior, Aqua, Cu.Ft
800 watts cooking power: At 0.9 cubic foot, this microwave provides the cooking power needed to quickly cook and reheat foods
Convenient cooking controls: 12 pre-programmed cooking settings, delay timer and express cooking provide options for the optimal heating of popular foods like popcorn, pizza, potatoes, veggies and more
Digital clock: Easy to read LED display, lights up the digital clock and highlights each cooking setting
Even cooking: Rotating glass carousel helps cook food evenly
Retro accents: A sleek chrome door handle, control panel and accents add fun and flair to this unique retro styled appliance
Simple program dial: Easily navigate cooking settings with simple turn and push program dial
Best Convection Microwaves
As mentioned previously convection ovens can cook your food in conventional ways but also has a microwave function that can be used. The smart technology is impressive and allows for control so easily which is perfect for the busy household.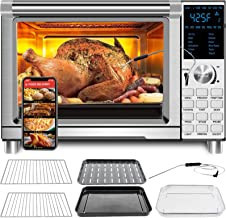 NUWAVE Bravo Air Fryer Toaster Smart Oven, 12-in-1 Countertop Convection, 30-QT XL Capacity, 50°-500°F Temperature Controls, Top and Bottom Heater Adjustments 0%-100%, Brushed Stainless Steel Look

INTEGRATED DIGITAL TEMPERATURE PROBE – Once the desired finishing temperature is set, Bravo constantly monitors the internal temperature of your food and automatically ends the cooking process when the desired internal temperature is reached. You will never under cook or overcook your food again.112 PRESETS AND CONVENIENCES BUILT-IN – Bravo has 4 different rack positions and is programmed with includes 12 preset cooking functions for grilling, air frying, baking, broiling, roasting, dehydrating, reheating, defrosting, toasting and more. It also has additional 100 pre-programmed recipe presets in addition to 50 slots where you can save and recall your own favorite recipes.LINEAR THERMAL (LINEAR T) TECHNOLOGY – Set cooking temperatures from 50°F and 500°F adjustable in precise 5°F increments. Patented Linear T Technology executes the set temperature accurately throughout the entire cooking process by continuously monitoring temperature fluctuations and making constant power adjustments every second to maintain the set temperature to ensure perfect results. Unlike the primitive methods of turning the heater on and off, our heater never turns off while cooking.HIGH-QUALITY CONSTRUCTION – From the heat-resistant and shatter-proof tempered glass door to the heavy-duty cooking racks, to the non-stick enamel baking pan with broiler rack, crumb tray, and air fry basket, everything that comes with the NuWave Bravo XL is made with quality in mind.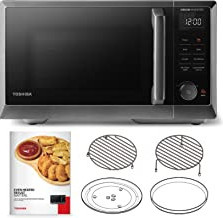 TOSHIBA 6-in-1 Inverter Microwave Oven Air Fryer Combo, Countertop Microwave, Healthy Air Fryer, Broil, Convection, Speedy Combi, Even Defrost, 11.3'' Turntable, Eco-Mode, Sound On/Off, 27 Auto Menu

6-In-1 Ultimate Versatility】This multi-microwave with 10 power levels is your ultimate kitchen helper. The versatility as a microwave, air fryer, convection oven, broiler, defroster, Speedy-Combi, make it your best countertop space-saver【Inverter Technology for Even Cooking & Defrost】With Inverter Technology, This countertop microwave provides even cooking, reheating and defrosting. Unlike traditional microwave heating system, it allows more uniform distribution of heat in food, guarantee the maximum tender texture【Less Fat and Crispier】With 360° rapid heat circulation technology, TOSHIBA Multi-Microwave with air fryer cuts down on calories by using no added oil making crispier and golden fried food like chicken nuggets, fried fish and French fries. The supplied bake tray and two wire racks are used for optimal air fry results.【Speed up Cooking with Combi-Modes】Despite powerful output of 1800W under Convection up to 425°F and 1000W under Grill, Combi-Modes speed up your cooking with combination of Microwave, convection and grill function, while delivering perfect dishes with crispy, browned outsides and tender texture insides.【Discover Amazing Recipes】Comes with an original cookbook with 27 classic recipes. Also, the microwave itself has 11 Auto Menus, 10 Home Fry Menus and 6 Defrost Presets, so that novice can also make Michelin-star meals at home. External Dimension: 19.5"W x 17.6"D x 11.5"H with 11.3" turntable.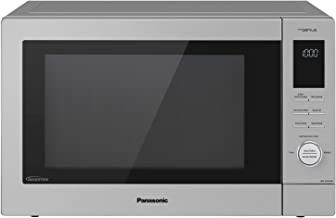 Panasonic HomeChef 4-in-1 Microwave Oven with Air Fryer, Convection Bake, FlashXpress Broiler, Inverter Microwave Technology, 1000W, 1.2 cu ft with Easy Clean Interior – NN-CD87KS (Stainless Steel)
The Ultimate All-In-One Multi Oven: It's a countertop microwave, broiler, air fryer, and convection oven all in one! Use each function alone or combined for delicious meals every time. Healthy Air Fryer Mode: Quickly circulates hot air around food, producing crispy, brown results, no preheat required. Make french fries, nuggets, and healthier and delicious. Use as a Main or Second Oven: Use Convection Bake function up to 425°F, with or without preheat, for baking and roasting. FlashXpress Broiler is perfect for toasting, browning, and crisping. Smart, Even Cooking Power: 1000-Watt Panasonic inverter microwave technology for smart, even defrosting, reheating, cooking, & warming; Genius Sensor Cook, Turbo Defrost, and other dedicated settings for easier cooking. Sleek, Space Saving Design: Large capacity, small overall footprint – 22"W x 13.4"H x 17.7"D with 14.2" turntable; place on countertop or make it a built in microwave oven with optional trim kit (NN-TK81KCS)
Conclusion
What is the best wedding gifts? The best wedding gift will be personalized for the couple for who it is intended but if they need a great way to cook their food a better question might be, "What's the best microwave?" A microwave is an excellent gift to buy and can be considered as an unforgettable wedding present from group of individuals, also, which will have tremendous value for their future.