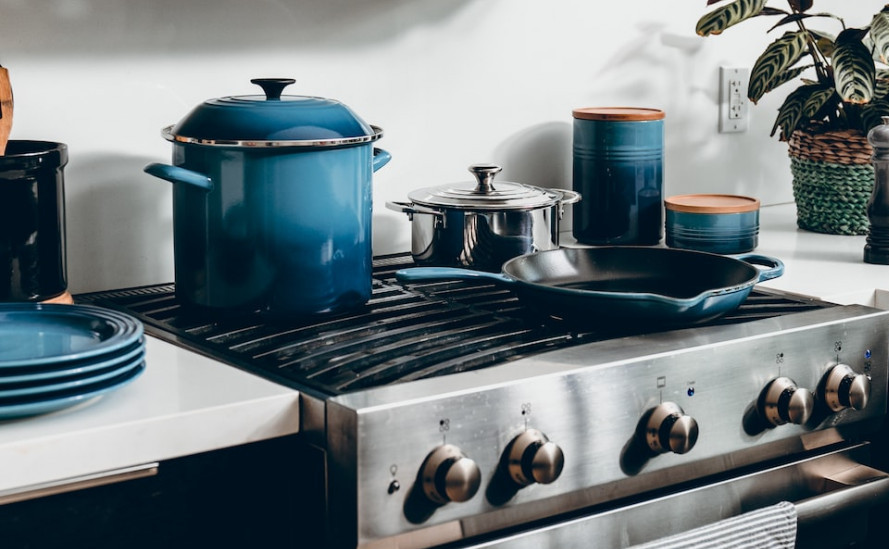 "Top gifts Women," are presents that must reach her emotional heart. Many women enjoy cooking because it gives them an emotional uplift and the chance to create something very special for their families. Whether the women are house wives or a busy business woman who comes home to her family; they will enjoy top rated cookware. This will provide them with a great tool in order to provide nutritious meals for their families. Newly weds setting up a home together will also be impressed with the proper cookware so that they can to have excellent nutritional meals and results, but what is the top rated cookware?
There are five types of cookware, each having advantageous and disadvantageous
1. Stainless steel
Advantageous
Easy to clean.
Does not Stain Easily
Will not React with foods
Anti-corrosive material with Excellent durability
May features a multi-ply construction to aid in heat conduction and distribution (Composite- See below)
Disadvantageous
Prone to hot areas and the need for constant stirring.
It is far from the best heat conductor
2. Ceramic
Advantageous
Easy to clean.
Does not react with foods
Appealing look
Efficient heat Distribution
Lightweight and easy to use
Disadvantageous
Requires extra care
Coatings may chip or fade
They are brittle in nature so must be handled carefully
3. Granite
Advantageous
Easy to clean.
Lightweight and easy to use
Very Durable
Non-toxic and does not react with foods
Lightweight and easy to use
Disadvantageous
Is not suitable for high heat
Wooden or plastic utensils must be used
Enamel coating may chip overtime
Are not suitable for glass cook tops
4. Aluminum
Advantageous
Very affordable
Excellent heat conductor
Lightweight and easy to use
Disadvantageous
Reacts to acidic foods
Is dented or twisted easily
Prone to discoloration
Is not as durable as other materials
5. Cast Iron
Advantageous
Keeps consistent temperature
Long-lasting qualities
Excellent heat conductor
Disadvantageous
Requires seasoning to keep food from sticking
Heavy to Hold and use
Will rust if not dried and kept conditioned
6. Non-stick
Advantageous
Easier to cook with limited stirring needed
Healthier cooking with less fat
Easy Cleanup
Better for inexperienced cooks
Disadvantageous
Easily damaged with metal utensils
Non-stick coating will damage at high temperatures.
Is not dishwasher safe
Cannot be used in the dishwasher
7. Copper
Advantageous
Easy to clean.
Best heat conductor
Appealing to the eyes
Safe to use in the oven
Even heat distribution
Disadvantageous
Can be very expensive
Can react chemically with some foods
Can be dented easily if care is not taken
8. Composite
Advantageous
Uniform heat
Better hear conduction
Cooking temperature easy to control
Non-reactive to acidic foods
Very durable
Low maintainence
Resists rust
Minimizes the limitations each material through technology
Disadvantageous
Is more Expensive to buy
Prone to exterior stains
Can not be used with induction
non-stick Coating wears out over time
9. Hard Anodized
Advantageous
Very hard to scratch
Harder to clean
Some Foods may stick
Non-reactive to acidic foods
Very durable
Low maintainence
Disadvantageous
Heavier to use
Prone to exterior stains
Can not be used with induction
non-stick Coating wears out over time
10. Cast Aluninum
Advantageous
Retains heat well
Does not rust Easily
Foods do not stick easily
Lightweight and easy to handle
Inexpensive when compared to cast iron
Disadvantageous
Reactive to acidic foods
Warping can occur easily
This outlines the advantageous and disadvantageous of the various types of materials used for cookware. Now we will take a look at the different types of cookware that you can buy.
What is the Top Rated Cookware
Before I present some quality choices for top rated cookware, let us determine what factors you should consider when buying a cookware set:
Factors to Consider When Buying
Pot and Pan Covers

Are lids designed to keep in the heat?
Do the lids reduce splatter?
Do the lids come with handles?
Are the handles riveted or welded for strength?
Riveted handles are very strong and never needing tightening.
Riveted handles for cookware
Thickness and consistency of the metal
The gauge of the cookware is important to determine to compare durability
Premium Cookware Sets
Homaz life Pots and Pans Set, Tri-Ply Stainless Steel Hammered Kitchen Cookware, Induction Compatible, Dishwasher and Oven Safe, Non-Toxic, Professional Grade Cooking Sets, 10-Piece, Sliver
【One Set Can Last A Lifetime】- Set includes: 8-inch frying pan, 10-inch frying pan, 2-quart sauce pan with lid, 3-quart sauce pan with lid, 4.5-quart sauté pan with lid, 8-quart stockpot with lid.
【Classic Tri-Ply Construction】- Unlike other brands' impact-bonded aluminum base, the entire pot or pan body of Homaz cookware is made of responsive aluminum core bonded together with 2 layers of durable stainless steel for maximum durability and fast, even heat distribution.
【Stylish Hammered Design】- Stainless steel hammered cookware is so delicate that it is a work of art in the kitchen.
【Induction Compatible & Dishwasher Safe】- Compatible with all cook stove tops, include induction, gas, electric, halogen, glass, and ceramic. Oven and broiler safe up to 550°F. Stainless steel pots and pans are dishwasher safe, metal utensil safe, and non-toxic, PFOA & PFOS free.
【Lifetime Warranty】- Homaz products are created to last a lifetime, if you have any problem, please feel free to contact us. Your pans must be used correctly to get the best cooking experience: Medium or low heat is all your pans need to treat your food right.
Customer ratings by feature
Easy to clean 4.9 Durability 4.6 Value for money 4.5
Legend Stainless Steel Cookware Set | 5-Ply Copper Core 14-Piece with Gold Handles | Stainless Steel Pots and Pans Set | Professional Clad, All Kitchen Induction & Oven Safe | PFOA, PTFE & PFOS Free
CHEF-GRADE STAINLESS STEEL COOKWARE SET: Legend Cookware Stainless Steel Pots and Pans Set combines the epitome in rapid heating, heat retention, and cooking stability. Pots and pans for induction cooking feature stainless steel gold handles with durable rivets, and measurement markings.
GENUINE 5-PLY DESIGN WITH COPPER CORE: Each layer of our kitchen cookware serves a purpose: Layer 1 is 304 stainless steels for easy cooking; layer 2 is aluminum Layer A for even heating; thick copper core offers rapid conductivity; layer 4 is aluminum Layer B for heat retention; layer 5 is 430 stainless steels for performance on all cook tops.
DISHWASHER & OVEN SAFE UP TO 230°C/450°F: This kitchen pans and pots set gives you a real sense of strength as it offers long-term durability to achieve healthy meals and odorless cooking. You can easily clean your stainless pots and pans set in a dishwasher. Also, these stainless steel pans and pots can be put in the oven at temperatures of around 230°/450F with the lid on.
14-PIECE SET INCLUDES THE FULL PACKAGE: This stainless steel pan set includes an 8-quart stockpot; 10-inch frying pan; 12-inch frying pan; 8-inch frying pan; 1-quart saucepan; 2-quart saucepan; 3-quart casserole pan; and 3-quart sauté pan. Stainless steel set pieces come with heavy, custom-fitted lids included.

"LEGEND FOREVER" LIFE-LONG WARRANTY: While Legend Cookware Stainless pots and pans are intended to last a lifetime, our promise lasts even longer: If our craftsmanship or stainless cookware sets ever fail you, we will replace your item or you'll get your money back. Turns out, some things do last forever.
Customer ratings
Distribution of Heat 4.6 Durability 4.5 Easy to Clean 3.9
All-Clad D3 Stainless Cookware Set, Pots and Pans, Tri-Ply Stainless Steel, Professional Grade, 10-Piece
Set includes: 8 and 10-inch fry pans, 2 and 3-quart sauce pans with lids, 3-quart saute pan with lid, and 8-quart stockpot with lid
Classic tri-ply construction, made with a responsive aluminum core bonded together with 2 layers of durable, stainless steel all the way around for maximum durability and fast, even heat distribution
Secured with riveted stainless-steel handles to ensure a safe grip and to add a bit of style with stainless-steel lids to match
Compatible with all cook tops including induction, and oven and broiler-safe up to 600°F
Bonded, Engineered, & Assembled in USA. Backed by All-Clad's Limited Lifetime Warranty.
Customer ratings by feature
Heat distribution 4.6 Durability 4.4 Giftible 4.2 Value for money 4.1
HexClad 6-Piece Hybrid Cookware Set – 2, 3, and 8 Qt Pot Set with 3 Glass Lids, Stay-Cool Handle, Nonstick – PFOA Free, Dishwasher, Oven Safe, Works with Induction, Ceramic, Electric, and Gas Cook tops
HexClad PATENTED TECHNOLOGY: The hexagon design is created through a laser etching process to provide both stainless steel and non-stick surface. This dual surface allows your kitchen set to be cleaned easily. Cook using less oil, grease, and butter.
WHY CHOOSE HexClad: Featuring a patented laser-etched hexagon design and tri-ply construction, HexClad is PFOA-free, oven safe up to 500 degrees, stove top and induction range-ready, and features stay-cool handles for a premium kitchen sets experience
HIGH-QUALITY MATERIALS: To create a durable cooking set built to last requires a tri-ply construction. The first and third layer is stainless steel for sturdy nonstick pots features. The aluminum in between conducts consistent even heat distribution
EASY CLEAN & SCRATCH RESISTANT: The HexClad kitchen essentials are dishwasher safe and can be cleaned using scorching or steel wool pads since the cooking pot is scratch-resistant and won't scuff or wear down from the use of metal utensils.
SEASONING INSTRUCTIONS: It is imperative to season your HexClad cookware to get the non-stick cooking experience. To properly season your HexClad cookware, bring the cookware to medium-low heat and spread 1 teaspoon of vegetable oil around the interior. Your cookware will be ready for use after leaving it on heat for 2-3 minutes and will perform better over time as it re-seasons itself from the fats in the food you cook with.
PROPER CARE AND USE: Wash cookware with warm soapy water before first use. The patented HexClad design allows heat to be distributed faster, so we recommend cooking on medium-low heat for most foods and medium to medium-high heat when searing meats.
LIFETIME WARRANTY: HexClad's products are created to last a lifetime. Our cookware is backed by a lifetime warranty from manufacturer's defects. With HexClad in your kitchen, you can be confident that your cookware will look beautiful and perform well for a long time.
Customer ratings by feature
Heat distribution 4.8 Durability 4.8 Easy to clean 4.7 Value for money 4.5
Pots and Pans Set, imarku 16-Piece Cookware Sets Nonstick Granite Coating, Induction Kitchen Cookware Easy to Clean, Cooking Pot Pan Set with Stay-Cool Handle, Red
Nonstick Coating Without Warping & Flaking Scratch-proof non-stick granite coating keeps food sliding smoothly along the surface, preventing food to stick, and making cooking easier. Sturdy interiors can avoid chipping and coming off. imarku pots and pans set are made of high-temperature die-casting, making the cooking pots with a thicker body, and reinforced with a wobble-free base for extra strength and heating.
【Healthy Cooking】 imarku kitchen cookware sets adopt EU standard aluminum alloy(EN601), which can be in direct contact with food, including trace elements such as titanium, zinc, strontium, magnesium which are beneficial to the human body. Toxin-free Whitford xylan surface layer ensures these pots and pans are free of PFOA, PFOS, lead & cadmium. (Have FDA certification for SGS testing)
【Ultra-Durable & Heat-Resistant Handles】The handle of the pan set is covered with soft rubber to keep staying cool and allow total control with a comfortable grip. Vented tempered glass lids trap in heat and moisture. Food-grade silicone edging of the cookware for better sealing. Suitable for ceramic, electric, gas, grill, and induction cooking stoves, quick and even heating. Safe cooking temperature up to 480°F.
【Easy to Clean】Coated nonstick coating three times to deliver food release easily, rivet less interior to prevent snags and food buildup, this pot and pan set is easy to help you solve sticky or difficult-to-clean problems. Hand-wash with the cotton sponge or dishcloth after the cookware cools down to prevent the surface from being scratched. (Do not use sharp shovels or brushes)
【16-Pic Red Cooking Sets】imarku pots and pans set nonstick include 2-quart milk pot, 5.5-quart stockpot with glass lid, 9.5″ &11;" frying pan, 11″ * 3.15″ H frying pan with glass lid, 11″ square frying pan, 3 different silicone spatulas, soft heat insulation pads and gloves (to make your complicated kitchen work safer). A perfect gift for Mother's Day, Weddings, Valentines, Housewarming, Thanksgiving and Christmas.
Customer ratings by feature
Heat distribution 5.0 Sturdiness 4.8 Easy to clean 4.4 Value for money 4.3
Granitestone Pots and Pans Set – 20pc Kitchen Cookware Sets Pots and Pans for Cooking Set Nonstick Cookware with Frying Pans Nonstick Pan Set Pot and Pan Set Pot Set Non Sticking Pan Set + Bakeware
COMPLETE KITCHEN IN A BOX – includes everything you need to completely outfit your kitchen and take cooking and baking to the next level, includes a full cookware set with frying pans, skillets, saucepans, stock pots with tempered glass lids, a deep frying and casserole pan with a steamer tray, fry basket and lid plus a complete PRO baking set with cookie sheet/jelly roll pan, loaf pan, muffin tin, square pan and more!
HEALTHY & NON-TOXIC – the Granitestone coating is derived from minerals and reinforced with diamonds, making this frying pan free of PFOA, PFOS, lead & cadmium for an eco-friendly, healthy experience
ULTRA NON-STICK – the Granite Stone Emerald Collection nonstick cooking surface is coated 3x, reinforced with diamonds to deliver the ultimate food release. No oil or butter needed, makes for healthier eating, and provides for hassle free, 1-2-3 cleanup.
GRANITESTONE EMERALD COLLECTION – New for 2021, the Granitestone Emerald collection was inspired by the natural and healthy elements of this pan and will make a stylish statement in any kitchen with performance upgrades including improved nonstick and durability
EFFORTLESS CLEANUP, DISHWASHER SAFE– spend less time with cleanup! After all the cooking and prepping is done, place cookware in the dishwasher for quick and easy cleanup.
Customer ratings by feature
Lightweight 4.7 Easy to clean 4.5 Heat distribution 4.2 Durability 3.9
STAUB Cast Iron Set 4-pc, Stackable Space-Saving Cookware Set, Dutch Oven, Cast Iron Skillet, Cast Iron Grill Pan with Universal Lid, Made in France, Matte Black
ULTIMATE SPACING-SAVING CAST IRON SET: STAUB Stackable design is innovative, unique and fits neatly into any storage area, including shelves, cupboards, and pot drawers.
4-IN-1: Set includes cast iron Dutch oven 5.25-quart serves 4-6, cast iron pan 3.5 quart serves 3-4, 10-inch cast iron grill pan, and universal lid that fits on each piece of the cookware.
MADE IN FRANCE: Rooted in French culinary heritage, STAUB cookware is beloved by professional and home chefs for its exquisite craftsmanship, exceptional performance, and timeless beauty.
COOK AND SERVE IN THE SAME DISH: Each STAUB cast iron piece effortlessly and elegantly transitions from the oven to the table.
BUILT TO LAST: Heirloom pieces you can lovingly pass down from generation to generation.
EASY CARE & USE: Textured black matte enamel interior requires no seasoning and ensures exceptional browning, and heat retention and distribution. Oven safe up to 500°F, dishwasher safe, hand wash recommended.
MORE FLAVOR: Heavyweight, tight-fitting lid retains moisture, spikes on the lid create a rain-forest effect evenly returning juices back onto food.
All-Clad D5 Dishwasher Safe Cookware Set, 10-Piece, Stainless Steel
Set includes: 8 & 10-inch fry pan, 1.5 & 3-quart sauce pan w/ lid, 3-quart sauté pan, and 8qt stock pot
5-ply bonded construction with alternating layers of stainless steel and aluminum for warp-free durability and supremely even heating that eliminates hotpots
For an added touch of refinement, it features a beautiful and easy to maintain brushed finish and fitted, stainless-steel lids
Compatible with all cook tops and optimized performance for induction tops – also oven/broiler-safe up to 600°F
Heat-resistant stainless-steel handles, designed a comfortable grip and permanently secured with stainless-steel rivets, and flared rims for drip-free pouring
Customer ratings
Heat distribution 4.7 Value for money 4.5 Durability 4.4
Conclusion
If it is your intent to know what is the top rated cookware. You will find that cookware is one of the "top gifts women," and is highly favored as a special gift. Newlyweds especially adore getting a quality cookware set and if it is too costly it can be given as a multi-family gift.
FOR MANY OTHER GIFTING ARTICLES LOADED WITH SUGGESTIONS PLEASE FOLLOW THIS LINK:
NOTE:
IF
YOU FOLLOW ANY OF MY LINKS AND MAKE A PURCHASE I RECEIVE A SMALL COMMISSION. YOU WILL NOT PAY ANY MORE FOR THE ITEM THAN IF YOU HAD GONE TO THE SITE DIRECTLY.